Hi, I am Shuaib. After visiting California and Virginia, I visited Alaska. So, Here I am sharing my experience. Let's start,
Alaska certainly doesn't do things by half, with national parks larger than several nations and icebergs taller than buildings.
The 49th state's high snow-capped mountains, untamed coastal plains, and glacier-rimmed fjords make it feel like another planet.
Any traveler should prioritize visiting Alaska, and so should I. It has one of the longest coastlines on the globe and several mountain ranges.
 Alaska has so much to offer that you or any traveler could spend your entire life traveling through it and never see the same thing twice.
Best Places to visit in Alaska
Serpentine Hot Springs, Nome
Serpentine Hot Springs isn't in Nome, but it's only a 90-mile flight away, making the trip quick.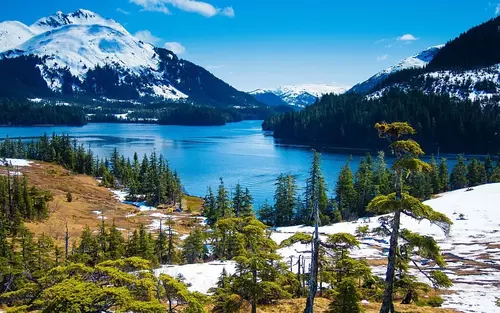 It can only be reached by plane in the winter. In the summer, you can also walk to the hot springs if you're feeling energetic.
I bathed while taking in the beautiful views thanks to the striking granite rocks surrounding the location.
Bathing here is extremely bizarre in the brutal winter when the landscapes are blanketed in heavy snow and ice.
Goose Creek Tower, Willow
The strange Goose Creek Tower protrudes from the trees in Willow's woodlands. This whimsical house stands alone and reaches for the sky in all its mysterious splendor.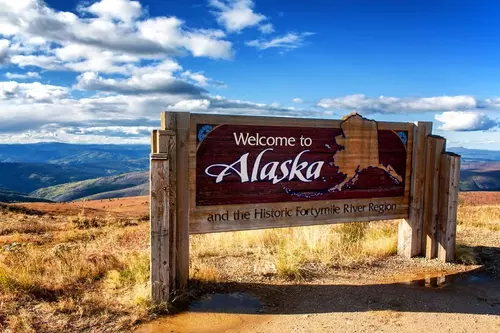 It appears that Mr. Weidner had plans to build a straightforward, two-story log cottage in the woods.
Unfortunately, access to the tower is not permitted, so I've admired its intrigue from the outside.
As you stare in awe, remember that it is on private property and abide by the boundaries.
Pasagshak Bay, Kodiak Island
Harriman Fjord, Prince William Sound
Tiny Church, Soldotna
 Igloo City, Cantwell
Best Beaches in Alaska
Alaska has a lot of beaches. However, below I am discussing those beaches, to which I traveled.
Christiansen Lake
Visiting Christiansen Lake in Talkeetna was my first ever and the most mind-blowing swimming experience.
In the summer, the water is clean, deep, and reaches temperatures in the low to mid-60s. It did not feel like I stumbled into a tourist trap because the public pier is only a few miles outside of town and is a local hangout view.
Black Sand Beach
I had witnessed the spectacular contrast of glacially blue ice against the black sand beach, water streaming down hanging glaciers, and marine life frolicking among icebergs.
From the Black Sand Beach, I captured the enormous rocks that the Coxe Glacier exposed after retreating 1/4 mile in just five minutes. At low tide, I've walked the shoreline past the length of the beach. Else I could have a kayak to explore with.
Yakutat Beach
A surfer's paradise can be found past Yakutat Beach at Schooner Beach. There were endless stretches of deserted seas to mesmerize.
This is a fantastic location for beachcombing if one prefers to stay on dry land.
I've looked up to Mt. St. Elias, the second-tallest mountain in the US, 18,008-foot top, which may be seen beyond Yakutat. It was worth cherishing.
Some Other Beaches
Eagle Beach
Schooner Beach
Nome Beach 
Kincaid Beach
Best Waterfalls in Alaska
Waterfalls in Alaska are so much beautiful, Beauty of these waterfalls stole my heart.
Thunderbird Falls, Anchorage
It takes approximately 30 minutes to drive from town to Thunderbird, close to Chugiak and accessible through a leisurely 1.8-mile walk.
The trailhead was conveniently located and well-maintained there. It was landscaped with handrails and boardwalks and connected to vistas.
I saw frozen falls that create enchanted columns of blue ice during the winter. I've put on crampons and ice spikes to maneuver through the ice drifts along hills.
Horsetail Falls, Whittier
For intermediate and experienced seasoned hikers, the route to Horsetail is a treasure trove of natural beauty.
Even though there are sharp switchbacks in the region, beginners might wish to try it. As a beginner, I tried it, and it turned out to be interesting.
Horsetail Falls, which only flows in the winter and early spring because of snow and ice melt, is the main location from which various waterfalls can be seen.
South Fork Eagle River Falls, Anchorage
This is the most famous portion of the area, with the magnificent fall that cascades in two streams right by the roadway, swishing over the rocks and crashing heavily down the 176-foot stretch.
It is ornamented with two channels that flow over a sizable rocky face and are situated close to the Eagle River.
The fall route is also highly muddy in the summer and very slippery in the winter.
It has been listed as one of the most epic destinations for all skill levels.
Winner Creek Fall, Girdwood
Virgin Creek Fall, Girdwood
Liberty Falls, Chitina
Brooks Falls, Katmai National Park
Wildlife Sanctuaries/ National Parks in Alaska
Denali National Park
The entrance to Denali National Park is off the Parks Highway and is conveniently close to Fairbanks (120 miles; 2 hours south; Anchorage; 235 miles; 4 hours north; Talkeetna; 150 miles; 2.5 hours north).
The Alaska Railroad also makes it simple for us to reach the park. In my opinion, eight hours from Anchorage, four from Fairbanks, and two from Talkeetna make this a lengthy voyage.
Amazingly, Muldrow Glacier's largest glaciers encompass 16% of Denali National Park.
Moose, grizzly and black bears, Dall sheep, wolves, caribou, lynx, wolverine, eagles, ptarmigan, and caribou are among the animals that are frequently spotted in the wild.
Katmai National Park
The Valley of Ten Thousand Smokes, the beautiful, lonely remnants of the biggest volcanic eruption of the 20th century, and wide river flats, towering mountains:
You can also discover that in Katmai National Park, right next to the park's well-known brown bears gorged on incoming salmon floods as I did.
Paddling, backcountry climbing, and fly fishing are the activities that draw tourists to this location. However, some fishing is catch-and-release only.
Wildlife here: salmon and brown bears
Famous for: bear viewing at Brooks Camp and the Valley of Ten Thousand Smokes
Annual visitors: 37,000
How to get there: King Salmon, 290 air miles southwest of Anchorage, is home to the Park headquarters.
Prince William Sound & Kenai Fjords National Park
Sports offered:
Skiing, hiking, and kayaking.
Wildlife: sea otters, porpoises, and mountain goats.
Tidewater glaciers and fjords, animal viewing, and glacier gazing are well-known here.
250,000+ visitors a year to PWS; 297,000 to Kenai Fjords
Access PWS via Whittier (60 miles by road from Anchorage), Valdez (300 miles by road from Anchorage), and Cordova (a 45-minute flight from Anchorage).
Some Other National Parks
Because of lack of time, I did not visit these national parks, If you want you can. Whenever I visit below mentioned national park. I will share my experience with you.
Lake Clark National Park 
Arctic National Wildlife Refuge
Aniakchak National Park
Historical Places to see in Alaska
Castle Hill, Sitka
This is where the American flag was hoisted. The Russian flag was lowered in 1867 to signify Alaska's transfer to the United States.
The first formal raising of the 49-star American flag occurred in 1959 after Alaska became the 49th state.
There are also old Tlingit and Russian forts there. Historic canons and breathtaking views of Sitka round out the adventure.
Skagway Historic District, 6 Blocks of Downtown Skagway
In Skagway's downtown, around 100 buildings from the time of the gold rush still stand.
The Upper Yukon Valley and Klondike gold mines are accessible from this frontier mining town.
At the many carefully conserved historical sites, history is still incredibly alive.
Fort William H. Seward, 4-6 Fort Seward Dr., Haines
This Haines fort was built in 1898 and consisted of more than 85 structures.
This was the sole military outpost in Alaska that was operational between 1925 and 1940. It was the last fort built during the Gold Rush.
The secretary of state who made it possible to buy Alaska is honored by having the fort bear his name.
 Russian Bishop's House, Tongass National Forest, 501 Lincoln St., Sitka
 Kennecott Mines, McCarthy
 Fort Abercrombie, Miller Point, Kodiak
Best things to do in Alaska
I did some activities in below mentioned places, If you are going to Alaska, You must do these activities.
White Pass & Yukon Route Railroad
I witnessed breathtaking natural landscapes, including gorges, glaciers, waterfalls, mountains, and woods. It also has historical significance as a remnant of the Klondike Gold Rush's infrastructure.
This railroad was initially constructed in 1898 to transport gold miners from Alaska to Canada.
Along its curved tracks carved directly into the rock, it soars above the ground to heights of more than 3,000 feet.
My parlor car had large windows and elegant, vintage embellishments that made it appear vintage.
Juneau Whale Watch
That distinction belongs to the isolated and untamed regions of the distant ocean, where I took a Juneau Whale Watch.
The tours last 3 to 5 hours and entail boarding a ship and sailing out so far from the city that I could no longer see it.
When whales are seen, the skipper usually shuts off the engine to encourage the animals to approach the ship on their own.
Hubbard Glacier
The Hubbard Glacier is more than seven miles long and is situated in the Wrangell-St. Elias National Park and Preserve frequently shed icebergs taller than 10-story houses.
It's an incredibly large structure that protrudes from the ocean like something both beautiful and terrible.
Bering Sea Crab Fishermen's Tour
I had the chance to observe subsistence fishermen hauling their catches out of the water while standing on a beach. There's a considerable likelihood that the wild salmon you've eaten came from this area. After trying some great salmon jerky, I can vouch for its deliciousness.
It was terrific to watch fishing expertise develop over many generations at work and highlight that the stunning waterways of this area have developed into a significant economic engine.
I returned to Anchorage after that and will be leaving for the mainland in a short while.
It's hard to realize that the journey is coming to an end.
But those stunning sights hide a very mesmerizing reality.
Kenai Beach
Kennicott Ghost Town
Jewell Gardens
Frequently Asked Questions (FAQs)
Is Alaska a decent travel destination?

Alaska is genuinely unique and different from all other places I've visited. It has more mountains, glaciers, and animals. Many more people had traveled to Alaska, the 49th state, making it a perennially popular vacation.

When is the ideal season to travel to Alaska?

The greatest time to visit Alaska may be in July, when the wildlife is most active, all trails are open, the days are long, and the temperatures are at their hottest on average.

When will the northern lights be visible in Alaska?

Despite being more difficult to observe during the Midnight Sun, the northern lights can be seen in all four seasons of the year. Between August and April, when fewer daylight results in darker night skies, is the greatest time to see the northern lights in Alaska.

What is Alaska's coldest month?

January. The coldest month in Anchorage is January when the nightly average is 9.3°F.

What time of year is the hottest in Alaska?

With an average temperature of 58.1 degrees, Alaska experienced its hottest July and month on record (5.4 degrees above average).