Alabama offers a variety of beautiful spots to explore and extends a cordial Southern welcome. You can travel 32 miles of lovely white sand and warm, blue waters to Gulf Shores, Mobile, and Orange Beach if you're seeking a beach vacation. More than 20 state parks offer camping, fishing, boating, caving, hiking, and bicycling for outdoor lovers. Beautiful waterfalls and unusual flea markets can be found throughout Alabama.
Before your visit, I advise calling the attractions and restaurants to confirm the most recent opening hours.
Best Places to Visit in Alabama
Below, I am sharing with you, some awesome places in Alabama,
Dauphin Island
Dauphin Island, a barrier island directly over the ocean from Alabama Port, is encircled by the divine waters of the Gulf of Mexico. This serene refuge is reachable from the mainland through a three-mile bridge.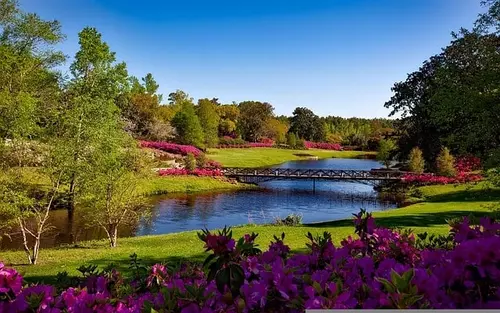 It offers white sand beaches, walking trails, and fantastic bird-watching. One of the greatest ways to see Dauphin Island is on a two-wheeler. You may rent a bike from Dauphin Island Bike and Kayak Rentals and go off to see the picturesque island sceneries, historic Fort Gaines, and gorgeous beaches.
You can choose from various lodging alternatives on the island to create the perfect home base for your trip.
Birmingham
Birmingham cordially invites you to visit and experience the welcoming soul of the South. Everyone can find something to enjoy in this contemporary, global metropolis, so good time management is required to give it all right.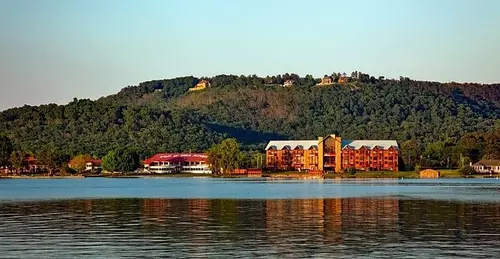 Maybe you could begin by learning about the city's role in the Civil Rights Movement; there are several available tours. Visit Vulcan Park, the Sloss Furnaces National Park, and Tannehill Historical State Park to learn more about the city's history as a hub for the iron industry.
Birmingham is not just about heritage; it also has fantastic nightlife, restaurants, shopping, golfing, and attractions for kids like the Alabama Splash Adventure and Steel City Jump Park.
Fairhope
The city of Fairhope, which is charmingly situated along the cliffs and shoreline of Mobile Bay, has a fantastic small-town vibe and enough intriguing activities to merit a visit. You may start your investigation by strolling down Fairhope Avenue, surrounded by charming boutiques, eateries, and art galleries and wonderfully lit at night. You could engage in a round of golf, take a relaxing stroll through the rose garden and onto the Fairhope Pier, go on a gorgeous boat cruise, or go horseback riding. Visitors who prefer nature will enjoy Weeks Bay Reserve, while beer enthusiasts shouldn't miss sampling at Fairhope Brewing Company.
Florence
The city of Florence, which is situated on the northwestern side of Alabama, is the location of a wide range of educational and entertaining attractions. Beginning with the Great Outdoors, you will find a variety of picturesque sites for outdoor activities. For example, Shoal Creek Preserve has strenuous bicycling, horseback riding, and hiking routes. At the same time, McFarland Park offers hiking, camping, fishing, and boating. Visit the Children's Museum, Sky Zone Trampoline Park, or Killen Time Mini Golf & Adventure Park for family-friendly entertainment.
HuntsvilleBotanical Garden
The Huntsville Botanical Garden, home to the largest butterfly house in the nation, an aquatic garden, a nature center, and numerous specialty gardens, offers a variety of the most picturesque treats for the senses of visitors of all ages. In addition to the stunning surroundings, various events are regularly organized. Multiple workshops, activities, special events, and programs are regularly planned for schools. Additionally, there is a two-acre children's garden with a maze, dinosaurs, rainbows, water, outer space, and other garden-themed zones. To keep the visitors interested, a number of festivals are held, including Scarecrow Trail, Galaxy of Lights, and Huntsville Blooms.
Guntersville Lake
Lake Guntersville, one of the most well-liked tourist destinations in North Alabama, provides guests with a wealth of recreational opportunities. Eagle watching in the winter, when the area sees a large influx of bald eagles, shopping at the Unclaimed Baggage Centre, and exploring the breath-taking hiking trails at Russell Cave National Monument and Lake Guntersville State Park are just a few of the exciting things to do. The Unclaimed Baggage Centre is rumored to be one of Alabama's best-kept secrets and a great spot to find the greatest deal on the incredible 7000 new products that enter the market every day.
Gulf Shores
In terms of beauty, Gulf Shores ranks among the best tourist destinations in Alabama. In addition to the beautiful beauty of its back bays, river, and white beach, Gulf Shores is home to historic sites, wildlife refuges, golf courses, and exciting activities like charter fishing & water sports. The local cuisine makes the journey much more enjoyable, which features specialties created from fresh fish. This location offers a variety of activities and stunning landscapes, so it has something for everybody.
US Space Rocket Center
This is a location that transports you far beyond the boundaries of the earth. The USSRC, the world's second-largest technology hub and research park is also the site of a unique space museum, a robotics camp, an aviation challenge camp, and a space camp. Several activities, movies, exhibitions, and events are uncommon to find anywhere else that are hosted for both adults and children. It provides a doorway into a mysterious world of science, technology, and astronomy and keeps you fascinated the entire time. It is one of the top tourist destinations in Alabama and a big draw.
Best Adventurous places in Alabama
These adventure places will blow your mind in Alabama,
Alabama Splash Adventure
Consider purchasing season tickets for the Alabama Splash Adventure if you reside in or around Bessemer. Children will have so much fun and have so many options for adventure that they will insist on returning as often as possible during the entire summer. However, you will have a good time as well. Start at the huge pool with four-foot waves in the Kahuna Waves. You will ascend 120 feet on the Rampage roller coaster and descend at 56 mph. You will be launched 50 feet into a dark tunnel by Splashdown before being dropped into a raging whirlpool. Try the Wipeout Adventure obstacle course, the Centi-Speed roller coaster, the Wacky Worm Coaster, or dare to enter the Mist-ical Maze, where you must make your way out while dodging water spouts, downpours, and showers.
Spring Valley Beach
Spring Valley Beach is a family water park on 25 acres of exquisitely designed parkland. It is just an hour from Birmingham in Blountsville, Alabama, in the picturesque Tennessee Valley. In addition to all the exhilarating slides and thrills, you can have a pleasant family picnic or BBQ here. You can only bring your own meals to this family park. There are 20 gazebos and pavilions available for use by families. The largest pool in the Southeast, eleven exhilarating water slides, and a thrilling kids' water playground are also present. One of the most well-known slides is 360 Rush, which allows two people to slide down 58 feet through 32-inch tubes at once before splashing into a huge basin. The Sidewinder isn't for the faint-hearted. You will descend on this four-story slide in a free fall before being thrown aside. You will be dropped into the pool by Black Out after being thrown into a dim, winding tube.
Water World
Dothan's municipal water park, Water World, is situated in Westgate Park, just beside the Westgate Recreation Center. With its sizable wave pool, Great White slide, entertaining Triple Flume slide, and baby pool for the little ones, it is the ideal spot to cool off in the summer. Parents can have a barbecue in the park's picnic area or read a book while the youngsters are splashing around. Of course, they are free to accompany the children on the slides or in the pool; being wet on a hot summer day is always enjoyable.
Aquatic Center of Fayette
The Fayette Aquatic Center is a public family water park open every day during the sweltering summer months and is situated in Guthrie Smith Park in the heart of Fayette. Families enjoy it to cool off in the heat while their children have a blast. A sizable 5,380 square foot outdoor pool is available for lap swimming, water aerobics, and swimming instruction. Three entertaining water slides plunge at full throttle into the swimming pool below from a 35-foot tower. For those who enjoy more laid-back water activities, a lazy river meanders leisurely around the park. For family picnics, there are tables with umbrellas and a lot of concession stands that sell food, snacks, and cool beverages.
Best Beaches in Alabama
Gulf Shores Main Public Beach — Gulf Shores
Orange Beach — Orange Beach
Gulf State Park — Gulf Shores
Alabama Point Beach — Orange Beach
Robinson Island — Orange Beach
Cotton Bayou Beach — Orange Beach
Florida Point Beach — Orange Beach
Romar Beach — Orange Beach
West End Public Beach — Dauphin Island
Fort Morgan — Gulf Shores
West Beach — Gulf Shores
Fairhope — Fairhope
Dauphin Island — Dauphin Island
Things to do in Alabama
If you are going to Alabama, You must do these things in Alabama,
Robert Trent Jones Golf Trail
Play a few rounds of golf on championship courses. The Robert Trent Jones Golf Trail is a collection of championship golf courses created by the legendary Robert Trent Jones Sr. Alabama has golf courses in Greenville, Huntsville, and Point Clear, among other cities. Numerous golf courses serve as venues for the PGA Tour and LPGA Tour, providing their own facilities like golf packages, membership discounts, and country clubs. Try out the renowned golf path to take advantage of everything the state offers if you fancy playing a round of gold while there.
USS Alabama Battleship Memorial Park
Explore a warship that has been decommissioned. The USS Alabama Battleship Memorial Park has a collection of planes and ships, including the USS Alabama, situated in Mobile Bay. Along with the entire park, a number of the ships are designated as National Historic Landmarks. The South Dakota-class fast battleship bearing the same name, a World War II submarine, Tuskegee Airmen aircraft, Vietnam War bombers and fighters, a Vietnam War riverine patrol boat, and an M4 Sherman tank are some of the attributes of the USS Alabama Battleship Memorial Park.
Cheaha State Park
Hike the trails in this beautiful park. Cheaha State Park, situated at the summit of Cheaha Mountain, is a magnificent attraction with a wide range of outdoor activities and stunning scenic views. The park offers a wide selection of on-site lodging, dining options, and campsites, in addition to tour guides and shops where you may rent the equipment you'll need for outdoor adventures in the Talladega National Forest. One of the most well-liked activities in the park is hiking, and the Pinhoti Trail, which connects to the Appalachian Trail, makes for a lovely stroll.
My Experience
Plan your trip to Alabama now! The sites to visit in Alabama are interesting, enjoyable, and exciting. There are undoubtedly Alabama vacation destinations that meet your vision of the ideal vacation, regardless of your financial situation or desire for something free. Hopefully, my travel guide has assisted you in selecting your own favorite Alabama attractions!
Frequently Asked Questions | People Also Ask For
Q. What is the number one attraction in Alabama?
A. the U.S. According to the Alabama Tourism Department, the Space & Rocket Center is the state of Alabama's top tourist destination.
Q. Does Alabama have an amusement park?
A. Owa and Alabama Splash Adventure are two somewhat sized theme parks. However, the latter is more of a water park.
Q. What is the famous food in Alabama?
A. Similar to other southern states, Alabama is well renowned for its barbecue. It even has its own special White BBQ Sauce. However, it's also famous for various other soul food and southern dishes, including Fried Green Tomatoes, Classic Southern Smothered Pork Chops, Shrimp & Grits, and Tomato Pie.
Q. How many rides are at Alabama Adventure?
A. With over 26 attractions, I am confident you will find something to like. Alabama Adventure is the ideal location for you and your family, whether you prefer to ride, slide, or simply relax.