Pune is such a gorgeous city; some of the best natural escape locations are nearby forts, mountain ranges, waterfalls, and other picnic areas are among the amazing places to explore in Pune that are less than 100 kilometres away and ideal for weekend vacations.
Weekends in this city never felt boring to me because there are so many attractions within 100 km of Pune.
Also Read: 15 Best Places for Couples in Weekends
7 Best Places to go Near Pune in Weekends
Here are some places to visit near Pune within 100 km,
(1) Lavasa
I've visited Lavasa, which is referred to as India's finest hill station. Lavasa, which spans 7 hills and occupies a total of 25000 acres, is the ideal fusion of natural beauty and new infrastructure.
Also Read: Mystery of Kailash Temple at Ellora
Lavasa is a privately developed hill city. Its location in the centre of verdant hills makes it unquestionably a destination for leisure travel. At this emerging destination, I seek a brief escape from the stress of busy city life.
Also Read: Asia's Most Cleanest Village
In Maharashtra's Western Ghats, Lavasa City lures visitors with its It is nestled in Mose Valley, around 200 kilometres from Mumbai, 65 kilometres from Pune, and roughly an hour's drive away.
(2) Karjat
This is a village, which is the last destination of Thane district, Maharashtra. This place is famous for its historical sites and trekking.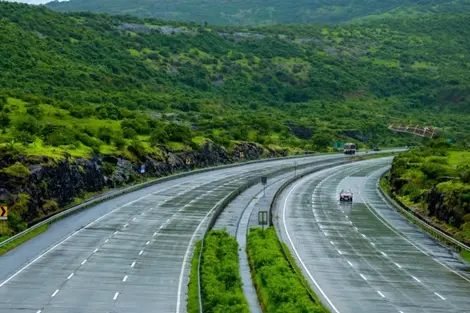 It is 90 km from Mumbai and has gained importance because it connects Pune and Lonavala station to Mumbai.
(3) Lonavala
The most popular hill station in Maharashtra and the place to be in the monsoons is Lonavala, located in the Sahyadri range of the Western Ghats close to Pune and Mumbai.
It was an enthralling experience for me to go for adventures as the outdoors are surrounded by thick forests, waterfalls, and dams.
The Bhaja Caves, Bushi Dam, Karla Caves, Rajmachi Fort, and Ryewood Lake are some of the well-known tourist destinations in Lonavala.
(4) Rajgad
The Rajgad Hike is an adaptive hike that begins in the Gunjavane Village of the Pune District and ends at the Rajgad Fort.
It's a popular route for intermediate trekkers like me, looking for a perfect place to sate my desire for adventure.
The fort is over 1400 feet above sea level in a stunning region of India's Western Ghats.
This provides an amazing and thrilling environment for daring actions.
I took all caution while climbing challenging, slippery, and dangerous terrain areas.
(5) Durshet
A little town called Durshet can be located in Maharashtra's Sahyadri mountain ranges along the shores of the Amba River.
People use it as a weekend escape to escape the busy cities.
It is located just off the highway close to the village of Khopoli, between the major Ganesh shrines of Pali and Mahad.
I experienced a heavenly environment while hiking and watching birds near Amba. During the rainy season, the gardens and lawns of the location miraculously come to life with a natural waterfall. I did many things in this area, including rafting on the River Kundalika, exploring the battleground of Umbarkhind, and mountain riding.
100 kilometres separate Pune from there
(6) Wai
Wai is a town in Maharashtra's Satara district located along the Krishna River.
The tour to the Maharashtra hill stations is not complete without visiting here.
Due to its natural beauty and ambience, as well as the fact that it is a significant holy site, it draws a lot of travellers.
It has more than 100 temples to visit, earning it the nickname "Dakshin Kashi" of Maharashtra. The location is well-connected to all forms of transportation.
This is one of the fantastic tourist destinations near Pune within 100 kilometres.
(7) Vikramgad
Vikramgad gets its cultural individuality from Maharashtra because it is a part of the Palghar district of that state.
This culturally vibrant is home to people of every religion, including Christians, Muslims, and other religions; Hinduism is practised by the majority of locals. Marathi has been used most frequently when communicating.
Tarpa Dance and Warli paintings are the best things I witnessed there. It is well known that the Warli tribe calls Vikramgad home. They saw dance as a manifestation of their excitement and enthusiasm for farming and harvesting.
You can eat Vada Pav and Misal Pav, the famous Maharashtrian Cuisine.
Hill Stations Near Pune
These hill stations will blow your mind,
(1) Panchgani
Panchgani provided a wide range of adrenaline-fueled activities, including paragliding, rock climbing, and mountaineering.
The presence of first-rate lodging options in Panchgani is one of the key factors contributing to my trip.
Hotels also offer great facilities, including exhilarating outdoor sports, and are well-equipped with contemporary conveniences.
But I chose bizarre night camping in that location, as the place is full of numerous eco-friendly camping spots.
(2) Khandala 
On the Maharashtra state's Western Ghats Mountain Range sits the hill town of Khandala City.
Approximately 3 kilometres separated from Lonavala, 12 km from Khopoli, and 33.4 km from the Karjat area.
Khandala is a lovely location with a lot of the seductive beauty of nature. This location has proved to be a terrific weekend escape and a popular destination for adventure seekers from all over the country because it is surrounded by lush green forest covers, foggy valleys, and tumbling waterfalls.
(3) Kamshet
This place is referred to as the Capital of Paragliding in India. This is 110 km from Mumbai, 16 km from Lonavala and Khandala, and 45 miles from Pune 45.
Kamshet is surrounded by the Western Ghats and decorated with the Sahyadri Ranges.
I was delighted by its perpetually alluring beauty, which had a charming mood and a rich cultural background.
Trekking was fun in Visapur Fort, and zip-lining was fun at Pawna Lake. I Participated in cave exploration at the Bhairi and Bedse caverns, which are located on Kamshet's high cliffs.
Or savour the regional fare and top-notch dishes at some of the best dhabas and restaurants.
Waterfall near Pune
We all love water in summer, if you are living in Pune then you must visit these waterfalls near Pune,
(1) Pawna Lake
Pawna Lake is one of the tranquil locations within 100 km of Pune to explore.
A paradise on Earth with beautiful green surroundings near the lake that perfectly resembles a canvas painting.
I've watched a wide variety of vegetation and fauna because of the lake's wonderful geographic location.
How to go to Pawna Lake: From Pune, take a train to Lonavala or Khandala, and then take a road to Pawna Lake.
(2) Kune Falls
The 14th highest waterfall in India is Kune Falls, situated in Lonavala.
It is a lovely scenic area with the Sahyadri mountains as the backdrop. It is located between Lonavala and Khandala.
During the rainy season, it draws a lot of tourists. Swimming and taking a bath are the most widely used pastimes. Zip lining and rappelling are further pursuits that I had to go for. The luscious Alphonso mangoes are an extra draw to this popular picnic location.
Use the local transportation that follows the Mumbai-Pune highway route to get there from Pune. The distance to Lonavala railway station is only 3.5 kilometres.
70 kilometres separate from Pune from there.
 (3) Kune Falls
It is 2 kilometres from Khandala Railway Station, 3.5 kilometres from Lonavala Railway Station, and 94 kilometres from Mumbai.
It is one of the most well-known waterfalls in Maharashtra and one of the top attractions in Lonavala.
At a height of 622 metres, Kune Falls is situated in front of the breathtaking Sahyadri Mountains. It is a three-tiered waterfall with a 200-metre drop, a must-see attraction in Lonavala trip packages. The waterfall is split into two portions, and its three tiers have a maximum drop.
The Kune Falls access road is currently private property. Therefore, it is forbidden for anybody to visit the falls.
(4) Maval Takve
A lake and a campsite for multi-adventure activities are close to Kamshet, off the old Mumbai-Pune highway. I've participated in group activities which have proven so exciting for me.
The package, which comes in two variations—Day-Out and Overnight Stay—is best for a group of at least six people.
(5) Kashid Beach
Kashid Beach is situated on the Arabian Sea coast, around 125 miles from Mumbai and less than 30 kilometres from Alibaug.
One of the cleanest beaches in north Konkan is Kashid, well-known for its lovely white sand.
I have participated in water activities, camping at night, witnessing the stunning night sky and riding horses on the beach. For a taste of history, I travelled 20 kilometres from Kashid to Murud Janjira Fort.
Historical Places to Visit Near Pune
(1) Rajmachi Fort
A former fort located approximately 16 kilometres. The stunning Kataldhar waterfall, one of the most picturesque spots to visit within 100 miles of Pune, runs to its fullest capacity during the rainy season.
Rajmachi Fort's location near Pune: The destination may be reached through the Mumbai-Pune Expressway up until Lonavala. At this point, you must head toward Fanasrai and Valvand to get to Udhewadi, the trip's starting point.
 (2) Sinhagad Fort
Southwest of Pune is where Sinhagad Fort, often called Sinhgad, is located. I've heard that the fort is 2000 years old. It is a well-liked weekend destination for residents of Pune and the surrounding area.
Kalyan Darwaza, Dev Take, and Tanaji Malusare Samadhi are a few of the top sights I've explored.
The local municipal transportation agency operates buses hourly as a means of transportation from Pune.
 (3) Lohagarh Fort
Visit Lohagarh Fort on a historical trek to learn more about its past.
Guru Govind Singh built the fort, making it one of the most significant tourist destinations within 100 km of Pune.
While travelling to Lohagarh Fort, the lovely and calm waterfall is worth observing.
Monsoon season is the greatest time to hike to Lohagarh Fort because the trail is covered with thick greenery, making it one of Maharashtra's most gorgeous destinations.
How to get to Lohagarh Fort from Pune: Take a local train from Pune to Malavli to get to Lohagarh Fort. To get to the trailhead from Malvali, take a bus or rickshaw.
64 kilometres separate from Pune.
(4) Junnar
The 200 cave excavations in the town of Junnar make it famous. The longest and largest cave excavations in India, these historic rock-cut caves are protected by the ASI.
Shivneri caves, Tulja caves, Lenyadri caves, and others are popular ones to explore. These are divided into various groups.
How to get there from Pune: Numerous public and private buses will take you to Junnar from Pune. As an alternative, you can drive along the NH60.
92 kilometres separate from Pune.
(5) Karla Caves
The Karla Caves are a collection of Buddhist rock-cut caves near Karli, close to Lonavala. According to legend, these cave shrines were in Jejuri, a town in Southwest Pune, also known as Khandobachi, constructed between the second and fifth centuries.
The Chaityagriha, also known as Cave No. 8, is a beautifully carved prayer room. The Koli community in Mumbai worships the goddess Ekveera, who has a shrine devoted to her. A Buddhist monastery that dates back to the second century BC is also there.
To get to Karla caves from Pune, take a bus from Lonavala, the closest train station to Pune.
60 kilometres separate from Pune from there.
(6) Jejuri
Jejuri, a town in Southwest Pune, is known as Khandobachi Jejuri because of its famed Lord Khandoba's shrine.
Hundreds of believers shouting the Lord's name while covered in turmeric are captivating.
Couples who have recently wed come to the temple to ask for blessings for their new life. One of the sites to visit nearby Pune within 100 kilometres is Jejuri, perched on a hilltop and offers sweeping views of the area.
How to get from Pune to Jejuri: To get to Jejuri, take public transportation or cab service. Trains are another option, departing from Mumbai or Pune.
50 kilometres separate from Pune from the nearest point.
(7) Shivneri Fort
Shivneri Fort is a 17th-century fort next to Junnar in the Pune district. As Chhatrapati Shivaji Maharaj is said to have spent his youth here, many tourists travel within 100 kilometres of Pune to visit this location.
Views of the forts of Narayangad, Hadsar, Chavand, and Nimgiri can be seen from the top of the fort. At the summit of the fort, there is a temple dedicated to Goddess Bhawani Devi that must be seen.
Take an ST bus from Junnar, the fort's location, to get to Shivneri Fort from Pune. It takes only 30 minutes to walk from Junnar to Shivneri.
Junnar is 90 kilometres away from Pune.
(8) Bhaja caves 
There are 22 rock-cut caves in the Bhaja caves group. The caverns date back to the second century BC. They are located on the Lohgard fort trail around 10 kilometres from Lonavala.
The stupas in the caves are one of its key characteristics.
These caves are renowned for their incredible timber construction. I visited this place during monsoons which proved to be great.
Bhaja Caves are around three kilometres from Malavali Railway Station, which is accessible by train from Pune.
About 62 kilometres separate you from Pune.
(9) Tung Fort
Close to Lonavala is a hill fort called Tung Fort, which is famous for the Pavana Lake housed within its grounds. At 1075 metres, this fort is a little challenging to ascend. Tourists must climb a 1,200-foot section of the fort, which is a hard hike, to get to the location. Lohagad Fort, Visapur Fort, Tikona Fort, and Korigad Fort are available from the top.
The fort, situated in Kamshet, is bordered by water on three sides. The classic fort's strong outline may be seen from a distance. The Adil Shahi Dynasty constructed the fort in 1600, and Chhatrapati Shivaji eventually took control of it.
Three activities—kayaking, river swimming, and river crossing—are included in both packages. The additional activities costs include the Tarzan Swing, Skywalk, Net Climb, Tunnel Crawl, Tyre Crossing, and Commando Walk.
(10) Matheran
The Matheran hill station frequently referred to as the "cutest tiny hill station of India," is the best place to see the sun set and rise and some breathtaking landscapes to keep you attentive and focused.
The area always has great weather to enjoy throughout the year, but the season of rain and thunderstorms amplifies its beauty.
In the last section, I wished I could stay here forever. I was transported to another universe while visiting the magnificent landscapes, temples, forts, and waterfalls, far from the tension, commotion, and concerns of my daily life. I will always cherish and remember this trip.
Frequently Asked Questions
Q1. Is there any Jyotirlinga near Pune?
A Jyotirlinga shrine called Bhimashankar Temple is situated 50 kilometres from Pune in Maharashtra, India, in the Khed Taluka (formerly Rajgurunagar). It is situated in the Sahyadri Mountains' Ghat region, 127 kilometres from Shivajinagar (near Pune).
Q2. Give me the name of the best place for a one-day trip near Pune?
The area has numerous attractions, including Pawna Lake, Appu Ghar, Krushnai Water Park, Aga Khan Palace, Raigad Fort, Pataleshwar Cave Temple, Khadakwasla Dam, Taljai Hills, and Kamshet. The sites in Pune are ideal for those seeking a brief city tour.