1500 calorie Vegan Meal Plan High Protein might be the ideal solution for you if eating meat grosses you out or if you feel bad about killing those innocent animals just to feed yourself because you have to follow a diet and eat meat to fulfill your daily intake of protein? 
Or maybe you are glucose intolerant and it's harder for you to follow any diet because they mostly include dairy products in it?
But how about you get to follow a diet and lose weight without having to eat meats or dairy products?
After doing a lot of research which includes cracking my brain in reading multiple studies, I have written this article so that you can find everything about vegan meal plans in one place. 
Most Recommended: 21-day Fix Vegan Meal Plan of 1800 Calories
Researchers recently found that people who followed a vegan diet comparatively lost more weight than those following a traditional diet.
If you are curious to know more about it you have to read further for a 1500-calorie vegan meal plan high protein diet. Vegan meals include plenty of fruit and vegetables, which are both packed with nutrients and low in calories, so you can enjoy your meals without having a fear of overeating.
Most Recommended: How to Eat 2100 Calorie Meal Plan for Weight Loss
Plus, this plan includes plenty of protein from plant-based sources, which will help keep you feeling energized throughout the day. The delicious vegan meals will help you stay on track with your weight loss goals.
Benefits of 1500 Calories Vegan Meal Plan
Appropriately planned 1500 Calories Vegan Meal Plan is beneficial and healthy for weight and glycemic control and provides metabolic and cardiovascular advantages.
It is necessary to encourage the use of plant-based diets for the prevention and treatment of cardio-metabolic disease.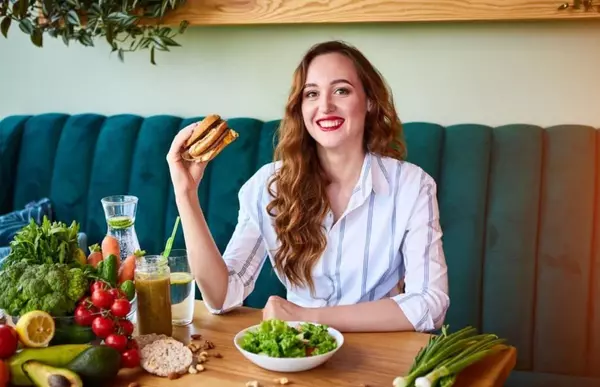 Cardiovascular Diseases
Cardiovascular disease ranks among the main causes of death globally. This is due to multiple reasons, one of the reasons being the consumption of meals high in animal fat and refined foods. Animal fat and refined foods have a lot of saturated fats which can increase cholesterol and block your arteries and lead to stroke or heart diseases.
Vegan diets help in reducing cardiovascular diseases like ischemic heart disease and cerebrovascular disease. According to Meta-analysis vegan diets were linked to a 40% reduced risk of coronary heart diseases and a 29% decrease in cerebral vascular disease in comparison to non-vegans.
Body Weight and Metabolic Syndrome
According to WHO, more than 1.3 billion adults all over the world are overweight and around 600 million are obese. An increased risk of dying young is linked to obesity.
It has been found that plant-based diets are particularly effective at helping people lose weight.
Vegan diets tend to lower the risk of metabolic syndrome by about one-half. It helps in low concentrations of triglycerides, low-density lipoprotein, blood pressure, blood sugar, and cholesterol.
Blood Pressure
In the United States, hypertension is associated with several health deteriorating diseases, such as heart disease, cancer, diabetes, and stroke. Heightened blood pressure increases the risk of death from stroke. High protein intake mainly from meat increases blood pressure.
Vegetables contain loads of soluble fiber which can help to keep blood sugar levels low, as a result lowering the risk of developing hypertension. In a meta-analysis, it was found that vegan diets lower blood pressure, compared to other omnivorous diets.
Diabetes
Following a Vegan diet is very beneficial for diabetes management. According to observational studies, people following a vegan diet are about half as likely to develop diabetes, as a person following a non-vegan diet.
Vegan diets have shown greater improvements in glycemic control in patients with type 2 diabetes than conventional diabetes diets.
Side Effects of Vegan 1500 Calorie Meal Plan
Considering that it may not meet most people's nutritional requirements, you may have to watch your micronutrients. Such as Vitamin B12, D, Omega-3 fatty acids, zinc, calcium, iodine, and iron. These are the most vital nutrients that are mostly missing in vegan diets.
You have to spend extra cash to buy the supplements if you want to fulfill the need for these micronutrients in your diet.
What to eat and What not to eat?
When starting a diet you should definitely do research on what foods are acceptable and what are not. You must know well about what foods can break your diet and what can help you to get in shape faster.
What we should eat for 1500 Calorie Meal Plan Vegan?
A vegan diet is a plant-based diet which means you can definitely add vegetables and fruits to your diet.
You can eat all kinds of whole grains, seeds, nuts, beans, and legumes.
Fermented foods are also very popular in vegan diets like miso, tempeh, sauerkraut, and Kimchi.
Imitation meats, the meat that is imitated to look and taste like real meat but is made from vegetarian ingredients. There are many options available such as vegan faux chicken strips, beef crumbles, chorizo, bacon, burgers, sausage patties, lunch meat, Plant-based milk, cream, cheese, etc. In today's time, there are a wide variety of plant-based dairy products available in the market.
What we should not Eat in Vegan Meal Plan 1500 Calories?
Avoid every food that has meat or dairy product in it. For example chicken, beef, bacon, duck, shellfish, etc. Eggs in any form. Also, avoid bakery food that has eggs in it.
All dairy products like milk, cheese butter, and cream, and of course any food which has these as their ingredient. You must also avoid edible products derived from animals honey, casein, isinglass, carmine, whey, pepsin, albumin, shellac, and gelatin
Grocery List for 1500 Calories Vegan Meal Plan
Beverages
water (still, sparkling, or even infused with fruit or herbs)
tea
coffee
coconut water
Kombucha
Condiments
mustard
Vinegar
tahini
horseradish
lemon juice
pickle relish
pico de gallo
hot sauce
Fruits and vegetables
Berries
Apples
Bananas
Oranges
Pears
Clementines
Cherries
Grapes
Avocado
Apricots
Figs
Dates
Tomatoes
Potatoes
Sweet Potato
Artichokes
Greens (kale, spinach, collards, arugula)
Cabbage
Brussels sprouts
Beets
Onions
Zucchini
Peppers
Peas
Edamame
Whole Grains
Whole-grain bread
Bulgur
Quinoa
Buckwheat
Farro
Whole-wheat
Barley
Couscous
Oats
Wheat berries
Brown rice
Nuts, Seeds & Legumes
Chickpeas
Walnuts
Almonds
Hazelnuts
Cashews
pine nuts
Peanut butter
Sesame seeds
Chia seeds
Pumpkin seeds
Flax seeds
Vegan Dairy products
Almond milk, Soy milk, Oat milk, Coconut Milk
Tofu
Vegan Cheese
7-Day 1500 Calorie Vegan Meal Plan High Protein for Weight Loss
DAY-1
Morning Detox Drink (3 calories)
Citrus Cucumber Detox Water
Breakfast (432 calories)
2 Vegan Pancakes
3/4 cup blackberries
2 Tbsp. peanut butter
Morning Snack (105 calories)
Lunch (325 calories)
4 cups serving Green Salad accompanied by Edamame & Beets
Evening Snack (202 calories)
2 cups air-popped popcorn tossed seasoned with 1 Tbsp. each olive oil and nutritional yeast.
Dinner (434 calories)
1 serving Rainbow Veggie Spring Roll Bowl
DAY-2
Morning Detox Drink (20 calories)
Lemon Ginger Detox Drink
Breakfast (323 calories)
1 medium orange
1 serving of peanut butter and chia berry jam English muffin
Morning Snack (200 calories)
1 cup edamame pods, seasoned with salt
Lunch (360 calories)
4 cups white bean and veggie Salad
Evening Snack (101 calories)
Dinner (500 calories)
2 cups black-bean Quinoa Buddha Bowl
DAY-3
Morning Detox Drink (15 calories)
Aloe Water With Lime
Breakfast (339 calories)
1 serving of Avocado & Kale Omelette
Morning Snack (225 calories)
1 large pear
12 dry-roasted unsalted almonds
Lunch (272 calories)
Roast butternut squash and red lentil soup
Evening Snack (62 calories)
Dinner (371 calories)
1 serving of Vegetable and chickpea tagine
½ cup cooked couscous
DAY-4
Morning Detox Drink (30 calories)
Apple Cider Vinegar Detox Drink
Breakfast (267 calories)
30g no added sugar muesli along with 200ml vegan milk
½ cup blueberries
Morning Snack (135 calories)
1 apple
¼ cup Spicy roasted chickpeas
Lunch (288 calories)
1 serving of Cauliflower and leek soup
8 almonds
Evening Snack (204 calories)
½ cup plain Greek yogurt
1 orange
Dinner (532 calories)
1 serving of Butternut squash and borlotti bean stew with 85g cooked quinoa
Apple strudel
DAY-5
Morning Detox Drink (15 calories)
Lime Cucumber Mint Detox Water
Breakfast (266 calories)
1 serving peanut butter-banana toast
Morning Snack (228calories)
Lunch (346 calories)
1 1/2 cups roasted cauliflower and potato curry soup
1 small whole-wheat pita, toasted
Evening Snack (171 calories)
3 tablespoons pumpkin seeds (pepitas)
Dinner (472 calories)
1 serving stuffed sweet potato drizzled with hummus dressing
DAY-6
Morning Detox Drink (14 calories)
Strawberry Detox Water
Breakfast (356 calories)
1 serving Quinoa & Chia Oatmeal Mix, prepared with water
3 Tbsp. chopped walnuts
¼ cup raspberries
Morning Snack (100 calories)
½ cup low-fat Greek yogurt
Lunch (390 calories)
1 serving Lemony Lentil Soup with Collards
1 medium apple
Evening Snack (96 calories)
3 squares of dark chocolate
40g raspberries
Dinner (427 calories)
1 serving Chickpea Coconut Curry
½ cup cooked brown rice
DAY-7
Morning Detox Drink (18 calories)
Strawberry, Mint, and Lemon Detox Drink
Breakfast (232 calories)
1 whole wheat English muffin topped with ½ small avocado, lemon juice, salt, and pepper
1 serving of fruit on the side.
Morning Snack (101 calories)
Lunch (347 calories)
1 serving of Vegan Mexican Chopped Salad with Avocado Dressing
Evening Snack (154 calories)
20 dry-roasted unsalted almonds
Dinner (543 calories)
Sugar Snap Pea and Carrot Soba Noodles
Note: The meal Potion or Serving size depends on your need.
Exercise With 1500 Calorie Vegan Meal plan
You can lose weight by following a vegan diet but if you pair it with exercise it will work like a magic.
Being physically active is necessary even if you are not on a diet. An average adult is required to exercise for 30 minutes each day, and at least five times a week.
Following a vegan diet doesn't stop you from doing any kind of exercise. However, The best way to shed pounds and tone up is by combining cardio and strength training.
Burpees
Push-ups
Jump Rope
Pull-ups
Crunches and alternate leg raises
Wall sits
Bicep curls with dumbbells
Jump squats
Jumping Lunges
Handstand push-ups or holds against the wall
Remember, these are a few suggestions you are free to follow other exercises according to your will.
Vegan Recipe
There are numerous vegan recipes out there but to give you a heads up I have listed a few recipes below so that you don't get tired just by searching for recipes on the internet but can actually try it, yourself.
Recipe 1 – Burrito bowls
This is the simplest recipe you just have to add avocado(1 whole), vegan cheese(1cup), tomatoes (2 cups diced), black beans (1 cup cooked), rice (1 cup cooked), and seasonings to taste. Voila, your burrito bowl is ready. You can other vegetables according to your liking
Recipe 2 – Raspberry Chia Seed Pudding
Blend the coconut milk (1 cup) and raspberry (½ cup) in a blender. Mix it until smooth and pour into a bowl. add in chia seeds (4 tbsp.) and mix well. The lip-smacking chia seed pudding is ready in a minute to eat directly or chill for an hour. You can also keep it in the refrigerator for the night so you can have a healthy breakfast even if you are in a hurry
Recipe 3 – Vegan Pasta Salad
The easiest recipe will keep you full for a long time and the bonus part you need only five ingredients to make it. You can alter the portion of each vegetable to your liking. Add diced onion, tomato, cucumber and pitted olives to the bowl of boiled pasta and pour olive oil(2tbsp.). Lastly, sprinkle some salt pepper on top, you can also add vegan sriracha for the kick and it is done. Enjoy your delicious healthy meal.
Conclusion
Following a healthy diet is not easy and when the food in the diet is not delicious it really gives it away. In my opinion, if you want to follow a diet choose the foods that you like the most of course it should be healthy. The reason for this is, if you choose the foods you like the most you would be looking forward to the meals and it would feel very rewarding to you.
It will keep you going and you are less likely to quit. Just don't worry about it too much and go with the flow.
And I'm sure this 1500 Calorie vegan meal plan high protein diet will definitely keep you and your stomach happy through its delicious healthy recipes and help you achieve your weight loss goal.
People Also Ask For
Q1: How can vegans get 60g of protein a day?
Ans: Nuts and seeds are plant-based sources with high protein content. For example 3tbsp. of hemp seeds contain 10g of protein, 3 tbsp of chia seeds have 7g of protein.
Try adding such seeds and nuts as an ingredient in your food throughout the day to complete your goal of intaking 60g of protein every day.
Q2: Which fruit has the most protein?
Ans: Goji berries have the most protein. 16% of its component is protein. For every 100 calories, you get 4g of protein. Another fruit with high protein content is guava, 1 cup of guava has 4g of protein.
Q3: Is peanut butter a complete protein?
Ans: No, peanut butter is not a complete protein as it does not have all nine of the essential amino acids. A protein in which one or more of the nine essential amino acids are absent is called an incomplete Protein. Therefore, peanut butter is an incomplete protein. Still, it is an amazing source of protein,1 tbsp. of peanut butter contains 4g of protein.
Q4: How many pounds a week will I lose eating 1500 calories?
Ans: According to some studies, eating 1500 calories a day can help you lose 1 pound in a week. However, it may vary from person to person.
Q5: Can I take 1500 calories and lose weight?
Ans: Yes, you can, just cut out bad eating habits. But if you want to lose weight fast physical activity can help you to speed up the process
Q6: What should I eat as a vegan to lose weight?
Ans: You can eat plant-based foods like fruits, vegetables, nuts, grains seeds, and others that have a low-fat content. For Example – Watermelon, blueberries, green leafy vegetables, lentils, peas, lentils, etc.
Q7: How many calories should I eat on a vegan diet to lose weight?
Ans: To lose weight, an average person needs to intake 1500 calories. that is why we have provided a 1500-calorie vegan meal plan high protein diet. So that you can start your weight loss journey hassle-free.
Q8: Why am I not losing weight on plant-based diet?
Ans: Weight loss depends on many factors, if you are not able to lose weight make sure you are getting enough sleep, not taking too much stress, taking adequate amount of water, and most important not eating vegetarian junk foods.