Hello, my name is Shuaib. A few days back, I and my friend Juli went to the USA for work. We haven't traveled much yet. But We have been able to roam California and Virginia till now. We will share my experience with you as We travel around this country. Tell me by writing in the comment box how you felt after reading it.
Nowadays, the hectic pace of modern-day work schedules makes it hard to keep the flame of romance between couples alive. Taking a few days off to escape the nitty gritty of keeping up with our work commitments adds an extra share of oxygen to keep us going.
Thus it is essential to take a vacation now and then. So if you are in the mood to pack your bags, we bring you some of the best vacation spots in California for couples to make your stay worthwhile.
California is a land of dreamers and romantics. From superb views to luxurious pampering, California is the place to visit this holiday season. This vast and wonderful state is packed with all the key ingredients to make your trip memorable. These getaways imbibe the essence of what California stands for, i.e. ultimate luxury and elegance.
Best Vacation Spots in California for Couples
Here we have told about some best places to visit in California for couples, where couples can roam comfortably and can enjoy themselves. It is not that these places are only for couples, anyone can visit these places.
1) San Diego
Warm and sunny weather throughout the year and unparalleled coastline running for a stretch of 70 miles draw adventures and tourists trying to escape the bitterly cold weather alike.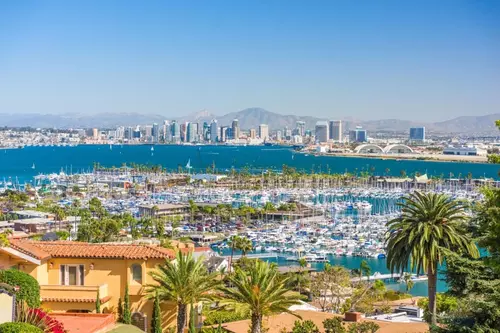 San Diego boasts a thriving nightlife with Mexican cuisine and marvellous beaches. Some of the best beaches in San Diego are Mission beach, La Jolla beach, and Coronado beach. San Diego also arranges whale watching tours, and tourists can hire fishing charters.
2) Monterey
Monterey is a small coastal town with picture-perfect beaches. Its scenic beauty allures tourists from all parts of America. Lying at the heart of California, Monterey's charming beaches and small coastal neighbourhoods are a top draw for tourists.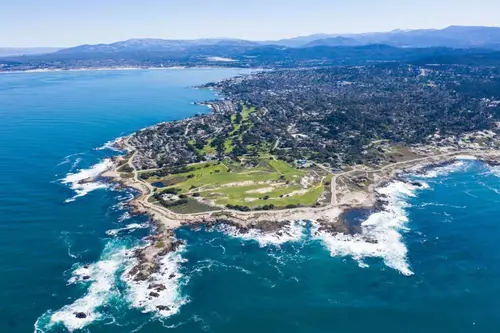 Monterey bay aquarium is a focal point of this town. However, a visit to Monterey is deemed incomplete without exploring its surroundings. Tourists head to Carmel for its boutiques, art gallery, or pebble for its many Golf courses.
3) Sequoia National Park
Nothing can be worthwhile than feasting your eyes upon the towering sequoias during your tour of California.
These giant trees reaching a height of a 3-storied building are native to California. They are found by the audience on the western slope of the mighty Sierra Nevada Mountains. The National park boasts over 8000 sequoias, including the General Sherman tree.
4) Golden Gate Bridge
Visiting the iconic Golden Gate Bridge is an experience of a lifetime. It is regarded now as one of the 7 wonders of today. The bridge was thrown open to the public in the year 1937.
At the entry point of the bridge lies the welcome centre. This centre provides valuable information regarding the history of this engineering masterpiece. It even houses exhibits. There is also a miniature model of the bridge here.
Either end of the bridge leads to the Golden gate National reserve area. The national reserve offers picturesque trails.
5) Eureka
Eureka is a quiet little escapade for couples who love seclusion and privacy. This city provides a unique combination of old-world charm with modern amenities.
In fact, this city is a perfect just a position of charm and beauty, likely to leave a lasting impression on anyone visiting here.
Hundreds of Victorian-style mansions, horse frown carriages, and historic forts exist. Couples would also love to visit Fort Humboldt, State Historical Park, or even wander the Sequoia park zoo.
6) Lake Tahoe
Lake Tahoe is proclaimed the biggest Alpine lake and the top lake in California. Besides, the lake is famed for its azure blue waters with lofty mountains overshadowing it. For these reasons, it has become a much favoured romantic destination for couples.
The lake and its surroundings provide many activities, from skiing to hiking. Couples even opt for an exquisite gondola like on the lake to partake of its scenic views. Many people even opt for a sleigh ride in winter near the State line.
7) Farmhouse Inn
Nestled in the wined country of California s, Farmhouse Inn is the perfect place to spend a romantic weekend. THE Inn is equally cozy and homely at the same time. Thus it feels like a home away from home.
This second home has 25 guest suites complete with individual fireplaces and whirlpools. Besides, the Inn provides spa amenities for the guests. Outside the Inn, visitors are free to go hiking or cannoning in the Russian River.
8) Meritage Resort & Spa
Those couples who aim for ultimate luxury should spend a few days here. The resort remodelled into the line of a Tuscan Inn is the perfect hideaway for couples looking for privacy.
The resort is located in Napa Valley, famed for its vineyards. The resort occupies a total area of 22000 sq. ft., and the spa facilities are available at 40 ft. below the ground.
9) La Casa Del Camino
Laguna Beach has earned the distinction of being the most popular beach in California. Not only had these couples awed by La Casa Del Camino, a medeterian-styled hotel overlooking the beach. The hotel started in 1925 and stands for old-world charm and elegance. Couples can choose 3 Spanish rooms, surf rooms, and private cottages.
10) The Westin St Francis
It opened its doors in 1904. This elegant hotel boasts marble floors, crystal chandeliers, and an exotic collection of murals adorning the walls.
The hotel has its share of celebrities and crème de la crème of society who made the hotel their second home. Their signature restaurant, the Oak Room, has set the bars for the fine dining experience.
Natural Places to Visit in California
You know what? California is also known as the golden state thanks to its pristine beaches, virgin forests, and the lofty Sierra Mountains.
Best Family Beaches in California
Laguna Beach
This is a renowned beach in the outskirts of California, thus developing fame for itself as a chic Bohemian culture.
Nevertheless, the beach provides excellent trails for both biking and hiking and 20,000 acres of reserved land. No trip is ever complete without visiting its enormous array of sea caves and tide pools.
Some of these beauties can only be visible during the low tide. One of the most visited sea pools happens to be the Pirate Tower.
Sea Kaya King is the most popular activity here. Very often, tourists hike up to Mount Zion. It provides possible views of the surrounding coastline and the distant sea.
Coronado Beach
Families, especially children, love to visit Coronado beach. It is the most beautiful spot in California, spanning over 1.5 miles.
Miles of soft sand along with a lot of beach activities, various watersports and mo, a little less crowdy beach makes it more attractive to young tourists. There are beachside picnic tables and tide pools for your family to enjoy. In addition, more activities like surfing and boogie boarding shall always keep you on your feet.
The sea here is calm with low tide at most times. So stuff your favorite bathing suit for the trip.
La Jolla Cove San Diego
This is another famous beach that you can visit during your time in California. Seals and sea lions can be spotted over here. You will fall in love with its soft sand and the clear turquoise water of the sea. This is undoubtedly the best place to visit with your partner while having a beachside candle-lit dinner while watching the sunset together.
You should try out snorkeling, scuba diving, or even KayaKing. The only disadvantage is that the crowd can be too much even during the off-season.
Best Waterfalls in California
Top Waterfalls Surrounding Lake Tahoe
The cascading of gallons of water over shells of granite and stone is enough to bring visitors to witness for themselves some of the best waterfalls in this region.
Cascade Greek falls
This is a short waterway passing through fields of ferns and wildflowers blooming on the way. The water trail starts from Highway 89 at Emerald Bay and cuts across Inspiration point.
Eagle Falls
This is one of the stunning waterfalls that looms above Emerald Bay. There are both lower and upper falls. The lower Eagle Falls lies at an elevation, with the water cascading down from a height of 60 and 90 feet.
The trail is comparatively easier to follow. A little way up the lower fall lies the upper Eagle fall.
Glen Alpine Falls
The waterfalls descend from a magnificent height of 65 ft. in a layered manner into a leaf lake. The best time to visit this beautiful scenic beauty is in May. Jumping into this lake with your friends, clicking gram-worthy pictures, and making memories are activities to consider while visiting this beauty.
Russian River Falls
Standing at the center of Alaska's Kenai Peninsula, the Russian River falls is a beautiful sight to behold. Although the fall does not descend from an immense height, it still attracts plenty of visitors for its abundance of sockeye salmon.
These salmon are visible in the waters of the fall each summer to reach their spawning grounds. The falls lie within the perimeter of Chugach National Forest.
Best National Parks in California
Death Valley National Park
On hearing the name, it is enough to refrain you from going but believe us, it is a beautiful spot you must visit. For most of the year, the vast expansion of the Californian desert surrounding the National Park can be brutally hot. But if your visit this place during Winter or Spring, the entire area transforms into a kaleidoscope of vibrant colors.
For years the area was inhabited by the Timbisha Tribe, who journeyed across the valley floor and the fertile mountains. The park has several camps sights and lodges for the benefit of the visitors.
You can visit this national park during Spring.
Yosemite National Park
Its superbly sculptured geology, its abundance of wildlife, and the multitude of recreational activities make it one of the top draws of California.
The terrain was carved out of massive blocks of glaciers that once enveloped the entire area. There are plenty of recreational adventures here, like fishing, rafting, hiking, and rock climbing. During Winter, this park is closed when the entire area is covered under a blanket of snow. You can visit this park during Spring.
Best Mountains in California
If you love exploring California's natural beauty, head towards big Sur. There you will find various activities to enjoy.
At the entry of Big Sur lies the Tourist Information Centre. The rangers help visitors find information about camping sites and other doable activities here.
The drive to Big Sur passes through many scenic points. It is indeed a joy to watch the surrounding countryside pass by. En route to Big Sur lies the Bixby Creek bridge. The bridge offers the perfect spot for photoshoots.
List of Famous Mountains in California
Mount San Jacinto
Lassen Peak
Mount Shasta
Mount Umunhum
Mount Tamalpais
Cobb Mountain
Mount Diablo
Jobs Peak
Granite Chief
San Bruno Mountain
Mount Whitney
White Mountain Peak
San Gorgonio mountain
Mount San Antonio
Sandstone Peak
Eagle Peak
Telescope Peak
Clouds Rest
Santigo Peak
Half Dome
Waucoba Mountain
Mount Patterson
Dry Mountain
Loma Prieta
Mount Linn
Mount Eddy