Knowing when's, what's, and how's of cloud computing makes you drive to learn about technology. However, regardless of the bunch of times, you heard this buzzword, you would never be able to perceive it patently. 
In the future date, by 2025, expected nearly 100 zettabytes of data would be storable in the cloud.
So, here is the explication of what cloud computing is all about. Thence, let me take you to go down into this with a quick sprint.
Also Read: Types of Artificial Intelligence
What is Cloud Computing?
The name had derived from the cloud symbol, which uses for flow charts and diagram representation. With a pay-as-you-go pricing system, it provides on-demand delivery of IT resources by the internet. This hosting service provider lets you free from buying to maintain the servers, software, intelligence, and networking.  Because of Covid times, its usage is going upwardly, including spending, cloud adoption, development, and infrastructure.
Also Read: What is Digital Forensics?
Cloud Computing Architecture
Looking at internal cloud computing and architecture would give a closer look at highly advanced cloud solutions. According to the technology evolvement, it gets modified with new features and strategies.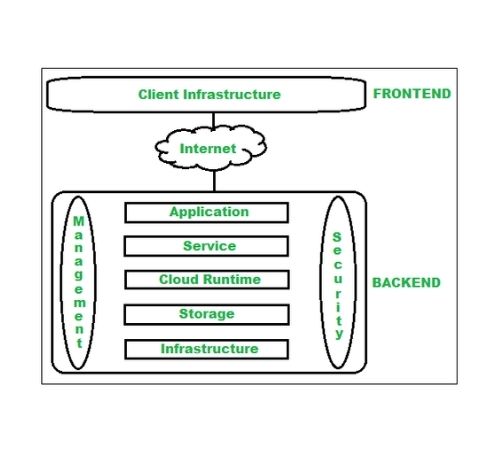 Namely, there are two parts:
Frontend
Backend
It's unified with two SOA (Service Oriented Architecture) and EDA(Event-Driven Architecture).
Frontend
A client-side of a computing system is nothing but what the front end implies. All the user interfaces and applications most needed are accessible to the client by the cloud computing resources/services.
Backend
The best examples for the cloud architecture backend platforms are AWS, Amazon, and Microsoft. By the service provider, all manage itself as it encompassed with data storage systems, zillions of servers. It provides secured software accessibility through private or public connections.
Applications of Cloud Computing
Now it delivers in two forms of models, those are:
Iaas (Infrastructure-as-a-service)
Paas (Platform-as-a-service)
Saas(Software-as-a-service)
Iaas (Infrastructure-as-a-service)
It allows you to build fundamental computing blocks that are accessible physical or virtual in a renting principle over the internet. This is benefit able to the firms that want to create applications from bottom to top and manage themselves.
But, to synthesize cloud computing at such a level, the company possesses the technical skills and administration ability.
However, it's not secure for the high amount of data as there will be security breaches.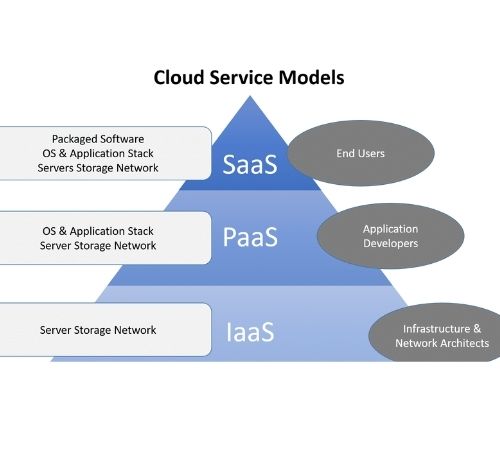 Paas (Platform-as-a-service)
Here in the Paas model, a third party provides both hardware and software applications to the user. In that case, if developers crave to build an application by including operating systems, database management systems, middleware.
Platform-as-a-service is the best that comprises storage, networking, and virtual servers.
Saas (Software-as-a-service)
Saas is one of the most demanding cloud computing software. It refers to a third-party provider who hosts the software and renders it to the end-user typically, over the internet.
Now it's in all the rage with individual consumers, though, the business users are Saas biggest aim.
Rather than taking from the organization's private data center, end-users ingress enterprise software or productivity applications. You can look at living proof examples Salesforce and Microsoft 365, which has business own data centers that are hosted and distributed for a long.
Types of Cloud Computing
Public cloud
Private cloud
Hybrid Cloud
When coming to the public cloud, it's the traditional cloud computing model, that access a huge pool of computing power via the internet.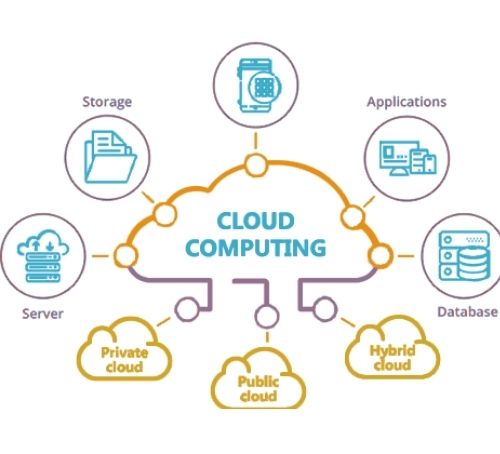 The main benefit is easily scalable service. That means, it possesses enough extra capacity that able to deal if the customer wants more IT resources.
While the private cloud has a bit of improvisation than that as it offers some advantages incautiously renouncing control on the data and services, the reason is it crimped away backside the corporate firewall.
Hybrid cloud approach
It is also calls as a cloud hybrid, which is attainable with the amalgamation of private and public cloud by computing environment as an on-premises data center.
That enables the shareability of data and applications among them. Some of the experts say that it would inculcate with multi-cloud, as you see below.
A 1 private and public cloud at least
More than 2 private clouds
More than 2 public clouds
For at least one public or private cloud, a digital environment has to link up.
Research by Gartner confirmed that on cloud services that global spending will be $260bn this year raise from $219.6bn. In turn, it grows more than expected.
Thus, it clearly evident that the demand for cloud usage got increased and is being up by vendors who are providing cloud versions of products.
What are the Advantages and Disadvantages of Cloud Computing?
The deployment of cloud computing brags many benefits for business users and individual usagers. A few of the merits are explained below.
Cost Reduction
Lowers the IT operating costs as the organizations don't need to invest huge amounts on equipment buying and maintenance. Subsequently, their capital expenditure cost reduces­­­. Simply put, they no need to spend on large data center buildings, utilities, and all setups for the business growth.
Global Coverage
Cloud computing avails the service of dexterity to scale supplely. In terms of cloud, that is to say, providing an ample supply of IT resources. For instance, the right amount of delivery at the right time, whether greater or lesser computation power, bandwidth, or storage.
Performance
It lets the whole cloud computing performance makes simpler as it runs on a worldwide network and upgrades to speedy and effective computing hardware.
Disadvantages of Cloud Computing
As there is no upfront, it's not accessible for a low price and fragile hope to buys for a long duration. If the company consists of sensitive data and core applications, there might be a challenge for them to deal with security breaches.
Over a decade ago, cloud computing technology came into existence. However, it has been in the primary stage of adoption, despite its long history. Whatever the organization's size, opting the cloud computing for storing information would bring a new shape with its virtualized resources/services.
There is a wide range of cloud computing services, including elementary networking, processing power: and storage, and conventional office applications. More or less, it doesn't demand you to be intently close to computer hardware that can now be deliverable over the cloud.