At my home, Painting is done. So, I thought I should share my views and experience with you. I thought It may help you with your home or office painting.
How can one forget interior coating while building their dream home? Painting is indeed an essential component as it works as a space lifter, protects interior surfaces, acts as a mood brightener, and levels up the overall aura of the house.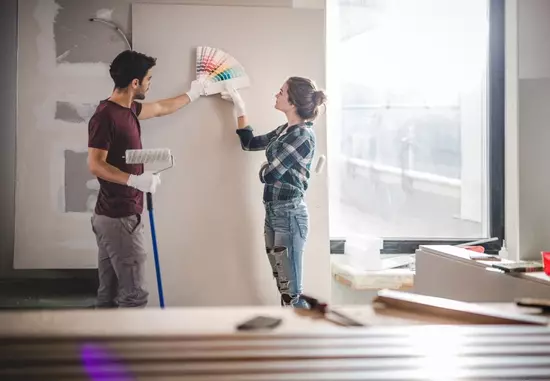 In the U.S., a report shows that, on average, exterior and interior painting boosts the house's total price by $4000+.
According to the statistics of 2021, the average home value in South Dakota hiked by 4.9%. To increase the overall worth and to achieve perfect interior and exterior coats matching your vibe, painting contractors such as Sioux Falls House Painters come to your service. The cost to paint interiors in Sioux Falls, South Dakota, ranges from $1.20 to $2.80 per square foot. Moreover, the area is continuously in high demand, as concluded by Realtor Associations, as the median sale price increased around 13% (to $266000). 
One can remodel the house through quality fresh coats under budget-friendly options. Choose your vibe from a variety of color options under the guidance of PPG experts. Professional painters usually provide both interior and exterior painting services.
Interior Painting
Interior coating decides the overall atmosphere of the house. Planning the colors well can reduce boredom and make one feel energetic even during lazy seasons of snow, weekends, and vacations. Paints offer a comprehensive, easy transformation under cost-effective alternatives. Many services are specialized in this sector, providing you with quality material and a variety of color choices. Additional services like popcorn ceiling removal, plaster and drywall repair, kitchen cabinets, etc., are also included. Primary coatings include trim painting, cabinet painting, bathroom painting, ceiling painting, basement painting, and kitchen painting. The use of premium, odor-free and eco-friendly paints makes it convenient for the customers to work at home while the paint is still going on. Many services even arrange their team to help move the furniture and essentials. 
Exterior Painting
Exterior paint is crucial as it gives extra protection from extreme weather conditions and preserves the original design and architecture of the house. It increases the total life expectancy by preventing molds, rotting, dampness, and cracks in the external parts of the house. Exterior paint gives a defined outline, enhancing and highlighting the house's architectural details. Also, it represents your personality and liking. An extra fresh coat can beautify the home, making it the most welcoming each day. To make a decent choice, one should consult professional services which provide numerous painting options according to your need. These include Fence painting and staining, deck painting and staining, pressure washing, and wallpaper removal. Some also give a warranty period in which areas are repainted in case of inter-coat peeling within a particular time. Suppose you are clear about the choice of color. In that case, Sioux Falls House Painters also provide experienced designers to help you discover your taste. Most respond to the query/request within 3 hours and give a free quote.
Without any further ado, discover your dream interiors and exteriors today and build a happy sweet home for you and your family.