Online shopping is a convenient way to purchase goods, as you don't have to travel anywhere, and various e-commerce platforms are available. The only drawback is you can not determine the quality of the product before you buy it. This article will tell you the factors that should be considered before purchasing a pocket knife online.
Aware about Factors: Before Buying A Pocket Knife
When you are shopping for a pocket knife, it is important to keep the following factors in mind: First, you should know what type of pocket knife you want.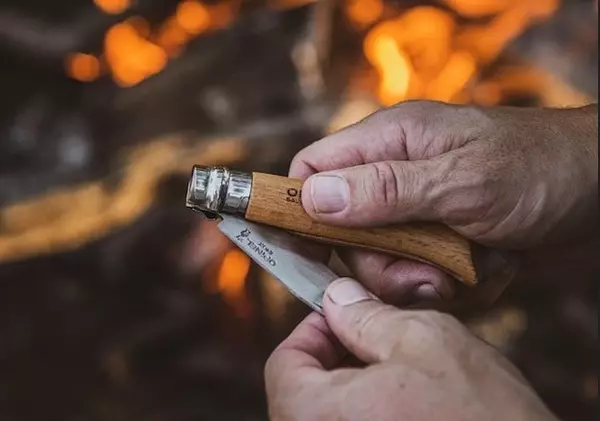 If you are buying pocket knives from an e-commerce platform then another important factor for us is price. Pocket knives range in price from $10 to $200, and there is a pocket knife for every budget. Finally, consider your style when buying a pocket knife.
1. The Blade Characteristics
The blade material is an essential factor when you are shopping for a pocket knife online. The blade material will determine the quality of the pocket knife and how well it will perform. The most common blade materials are stainless steel and carbon steel.
Stainless steel is a popular blade material because it is strong and durable. It is also resistant to corrosion, making it a good choice for pocket knives used outdoors. Carbon steel is a less expensive option than stainless steel, but it is also less durable.
The Blade size is important because it dictates how much weight the knife can handle. For example, a knife with a large blade can handle heavier tasks than a knife with a small blade. The blade shape is also important because it determines the cutting the knife can do. For example, a serrated edge allows the knife to cut through tougher materials than a straight edge.
2. The Handle Material
The handle material will determine how comfortable the pocket knife feels in your hand. Common handle materials include rubber and wood.
Rubber handles are lightweight and provide a good grip. However, they can be slippery if wet, so they are not ideal for rainy or icy conditions. Wood handles are more durable than rubber handles but can become dry and cracked over time. They are also heavier than rubber handles, meaning the knife might feel awkward or heavy in your hand.
It is essential to read the reviews of pocket knives before making a purchase. Studies provide an overview of all the critical features of the blade and how people have used it.
Types of Pocket Knives
There are two main pocket knives: fixed blades and folding knives.
Fixed blade pocket knives are the traditional type of pocket knife. They have a single blade that is fixed in place. They are usually made from stainless steel or hard synthetic materials and are heavy and bulky. They are perfect for everyday carry knives, but they are not the best choice if you want to perform delicate tasks such as carving meat or slicing fruit.
Folding knives are the modern version of the pocket knife. They have several blades that can be opened with one hand. They are much more versatile than fixed blade pocket knives and can be used for a wider range of tasks. However, they can be less durable than fixed blade pocket knives, and they may not fit into certain pockets very well.
The Best Way To Find the Right Fit for You
Before buying a knife, it is important to find the right fit for you. You want the blade to be comfortable and easy to use.
To find the best fit, you should try different sizes and shapes until you find one that feels comfortable and fits your hands perfectly. You also want the blade to be thin enough to slip into your pocket but thick enough to handle tough tasks.
Finally, make sure the handle is comfortable and fits your grip. It should be curved so that your hand remains in a fixed position when you hold the knife.
Notable Brands That Sell Quality Knives Online
If you are buying a knife or pocket knife, it is important to consider the quality of the blade. Notable brands that sell quality knives online include Gerber, Columbia, and Spyderco.
These brands make high-quality knives. In addition, all these brands have websites that are easy to navigate and contain detailed product information.
If your budget is limited, then Spyderco is a good option. Spyderco knives are affordable, but they still offer high-quality features. Additionally, Spyderco provides a satisfaction guarantee on all of its products. If you are unsatisfied with your purchase, you can return it for a full refund.
Gerber is another excellent option when it comes to buying pocket knives online. Gerber knives are known for their heavy-duty construction and superior design.
Conclusion
Make sure the knife you choose is high quality and has all the needed features. Also, make sure the seller is reputable and that the shipping time is reasonable. Finally, consider how often you will use the knife and what type of environment it will be used in.