Most people are confused during the selection of Wix and Bluehost hosting. Well, Both hostings are good at their respective places.
In today's article, I am going to discuss Wix Vs Bluehost.
Wix vs Bluehost
Wix is a website builder, which means it offers easy-to-use website design tools for beginners. Your website is hosted by Wix, but its servers aren't as powerful as Bluehost's.
Wix is a cloud-based platform that allows you to easily create a website. They provide you with sophisticated website creation tools that take care of the technical aspects of making gorgeous websites.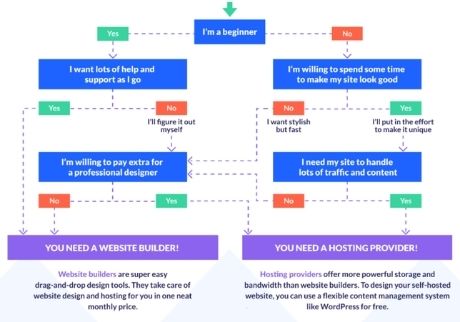 Israeli developers, Giora Kaplan, Avishai Abrahami, and Nadav Abrahami was formed Wix.com Limited in 2006. Its headquarters are in Tel Aviv, Israel, but it maintains offices all over the world, including in Brazil, the United States, India, and Ukraine.
They own several brands, including DeviantArt, Flox, and Appixia. Wix has over 160 million registered users and over 3000 workers as of January 2021, so you're in good hands. Wix's drag-and-drop website builder allows you to start building a website from the ground up.
You can also choose from over 500 designer-made themes and customize your site to your heart's content. They have Wix ADI (Artificial Design Intelligence) in the website builder sector, which develops a website for you automatically once you answer a few questions.
There's also the Wix Editor, a drag-and-drop website builder that lets you fully design your site. Finally, for those who are more tech-savvy, there is the Corvid by Wix editor.
Wix also offers domain hosting, which allows you to add a custom domain to your website, such as yourname.com.
You also receive Wix SEO Wizard, blog, logo maker, mobile-ready designs, marketing credits, social tools, customer management, analytics, SSL, and fast web hosting, among other features.
Wix's pricing is competitive, with the most basic person plan starting at $4.50 per month. Regrettably, the package includes Wix brand advertisements. The basic plan, which does not display ads and starts at $17 per month for business purposes, is available for $17 per month.
Wix provides outstanding assistance for premium subscriptions, as well as a help center with several tips. You can also use the Wix Marketplace to hire a professional.
Pros of Wix
Simple to Use Wix's drag-and-drop WYSIWYG (What You See Is What You Get) interface provides you complete control over your website and allows you to see it in real-time.
Wix offers over 510 extremely gorgeous and totally customizable HTML5-based templates, as well as a few Flash-based designs.
Wix makes a point of directing you to their official support channels as well as directly related assistance articles that you can find by clicking the help/support icons that are present practically everywhere.
Cons of Wix
Advertisements Can Be Seen in the Free Version
If you use Wix's Free Plan, you'll see advertisement logos on the side and bottom of your website's pages.
Templates are difficult to change.
Right now, there's no way to switch templates without losing all of your website's customizations.
Bluehost vs Wix
Bluehost, unlike Wix, isn't primarily a website builder. It is one of the most popular website hosting businesses, allowing you to create websites using the Weebly site builder as well as a variety of content management systems (CMS) like WordPress and Joomla.
Bluehost is a hosting company, which means it runs the server that your website is hosted on and maintains it connected to the internet. Hosting companies are more concerned with running your website than with helping you design it.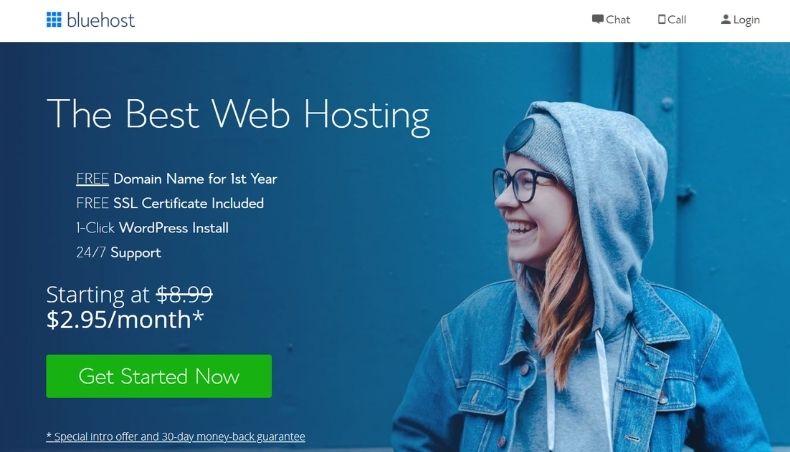 It may be used to develop HTML-only websites, CMS-based websites, and many more types of websites. In other words, Bluehost is a basic web hosting service that allows you to upload websites and software, such as WordPress.
Matt Heaton launched Bluehost in 2003, and it now hosts over 2 million websites. Endurance International Group owns the company, employing approximately 750 people and based in Scottsdale, Arizona.
They provide shared hosting, WordPress hosting, VPS hosting, and dedicated server hosting, among other services. Aside from that, you receive a lot of cool stuff, including a free domain for a year, a free SSL certificate, unmetered traffic, unlimited bandwidth, marketing credits, and so on.
You can rapidly construct attractive websites on custom domain names using the Weebly site builder, which is included with every plan. Weebly has all of the standard functionality that you'd expect from a cloud-based site builder.
A drag-and-drop website builder, complete HTML/CSS control, an integrated e-commerce platform, mobile applications, hundreds of free and premium templates, analytics, blogging, email marketing, an app market for additional features, photo galleries, SEO tools, and more are all included.
The Weebly-Bluehost combination if you don't have any technical skills. You can install WordPress or any other CMS Bluehost offers inside the control panel if you want more design freedom and full control over your website and content.
Bluehost has fair pricing, with the most basic plan starting at just $2.75 per month. There is no Bluehost advertising on this plan, and it comes with ample tools for personal blogs and small company websites. You can quickly upgrade to a more robust plan if your blog or website increases in size.
Pros of Bluehost
Bluehost offers a variety of hosting plans, including shared, VPS, dedicated, and cloud hosting, as well as managed WordPress hosting, allowing you to effortlessly expand your site to meet your changing hosting needs.
Bluehost has a genuine army of fast-acting specialists ready to assist you 24/7 through support tickets, hotlines, or live chats, in addition to some of the best self-help tools of any host.
Bluehost has a good refund policy: if you cancel within 30 days, you'll get a full refund, and if you cancel after that, you'll get a pro-rated refund.
The monthly fee for Bluehost is $2.95.
Cons of Bluehost
Bluehost does not guarantee uptime and does not compensate you if your website is unavailable for an extended period of time.
Fees for migrating pre-existing websites or cPanel accounts: Unlike some of its competitors, Bluehost charges extra fees for migrating pre-existing websites or cPanel accounts.
Consider these Bluehost alternatives for more options.
Bottom Line
They make it simple for consumers to create a professional and aesthetically pleasing web presence. Wix's website builder includes everything users need to create a fully customized, high-quality free website using artificial design intelligence. It offers a very user-friendly interface for beginner users and a large number of templates.
Bluehost (review) is also recognized for its unique resource protection technology, which is designed to safeguard shared hosting consumers from potentially abusive users on the same server. SimpleScripts 1 click installs allow clients and users to install applications quickly. They also offered VPS and Dedicated Hosting.