When we are starting international secondary school or in a professional course, nowadays, an internship is compulsory in our curriculum. Because in any private company or public company, you cannot take entry without any acquaintance.
After all, the security of a company is also very important. So now the problem is with those students who do not have any acquaintances. And this problem was overcome by the Internshala.
Now all of you must be wondering what Internshala is. This is a platform in which you can get the opportunity of an internship from home.
Before knowing which courses are available in it and how can we register in it. Before that, a little bit we need to know about Internshala. Today it is an amazing platform for students. The platform was started by Sarvesh Aggarwal in 2010. Mr. Sarvesh Passout from IIT Madras.
Internshala Courses
It provides internships for various courses. Here, is the list.
Marketing Internships
Finance Internship
HR Internship
Digital Marketing Internship
Engineering Internships
Electronics Internship
Civil Internship
Computer Science Internship
Mechanical Internship
Electrical Internship
Content Writing Internship
Graphic Design Internship
Humanities Internship
Science Internship
Law Internship
Photography Internship
Data Entry Internship
Types of Internshala Internship
It provides two types of internships.
Online internship or Virtual Internship
You can also do this internship at home. Employers give you online work in this internship. You can talk to them via phone. This internship is also called the Work from Home internship.
Regular Internship
The second internship is a regular internship. In this internship, you have to go to the office, whatever company I will hire you.
You will get both paid and unpaid internships at the Internshala work from home or regular internship.
How to Register in Internshala for Internship?
Let us know how to register Internshala for an internship.
Go to the INTERNSHALA website.
Click on the register button as shown in the picture. Here you will get two options: as a student or as an employer.
3. If you are a student and want to work in a company as an intern, then click on the option: as a student.
4. But if you have your own company and you want to hire someone, then click on: As an Employer.
5. As shown in the picture, students fill in their details and click on the Sign Up option.
6. A verification link on your registered email-id will have been sent. Click on the verify button in the verification mail.
7. After verifying the email, the screen will open in front of you (as shown in the image). Here you enter your mobile number, current city, and city of the second choice, wherever you are willing to do an internship. Click on the Next button after filling all the details.
8. Now you fill your preference in which field you want to work. Choose one of the options of a full-time internship or work from the home internship/Part-time internship.
9. Now according to your area preferences, Opportunities will come in front of you. Apply, according to your needs. Depending on how many months of internship you needed or how much money you want.
How to Register in Internshala as an Employer?
If you have a company and you need an intern. Here are some steps through which you can register yourself.
Go to the INTERNSHALA

website.
2. As shown in the picture, you can click on the option as an employer.

3. To register as an employer for an intern, you will need an official email ID of the company name.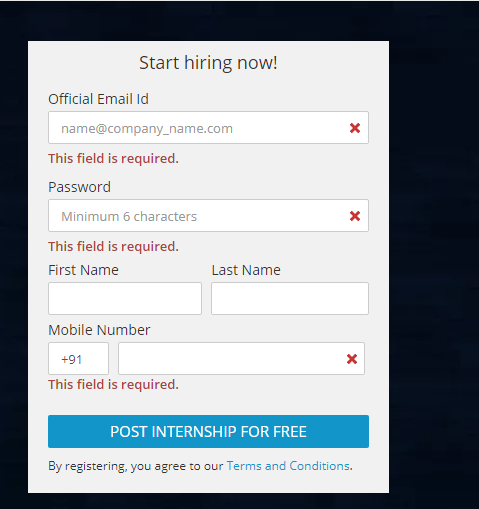 4. After the registration is complete, they want details of your company. And your account will be verified by the team within 48 hours.
5. After verification, you can post your advertisement.
How to do Internshala Employer Login/ Student Login?
It is not a difficult task to log in to an account if you have registered yourself.
Go to the INTERNSHALA website.
If you want to do an internship in a company, please log in as a student. And if you want to hire someone, click on the As an Employer.
Enter the email and password and go to your dashboard.
How to Delete Internshala Account?
1. To delete the account, click on My Account as shown in the image below (Red Mark Area).

2. Click on "More".

3. Now, Click on Manage Account.

4. After clicking on the managed account, you will get the option of delete the account it.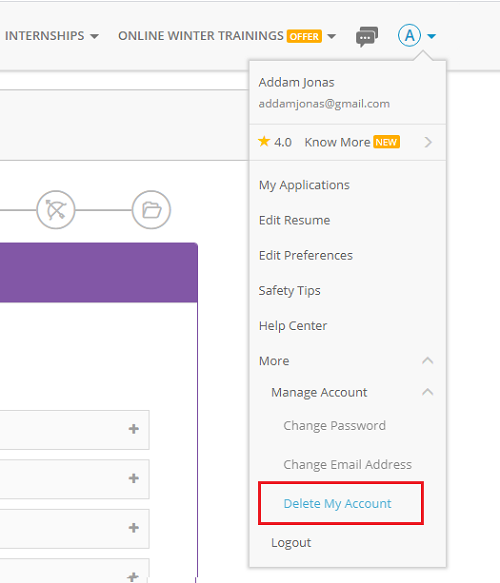 5. Here they will be asked for your feedback, why do you want to delete the account on Internshala.
6. To submit feedback, a link will be sent to your registered email ID. Click on that link. And your account will be permanently deleted.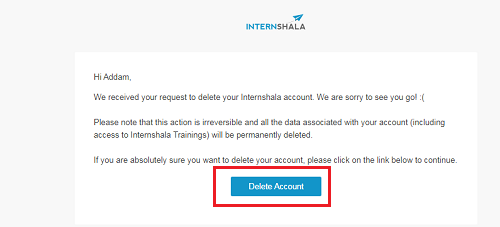 What is Internshala Training?
The internship provides training related to multiple courses like Digital Marketing Trainings, Python Training, Web Development Training, Android App Development Training, etc. The period for this training is 6 weeks.
I want to tell you one thing here that this training is not free, for this you have to pay a registration fee. But yes, one thing is true and that is that the registration fee is lesser than the amount you have to pay for training to other various institutes.
How to Get Help From Internshala?
If you have any problems related to the internship. You can go to the help center of the internship and ask your query (as shown in the image below).

In which cities does the Internshala provide an internship?
It provides internships in many cities. These cities are Delhi NCR, Bangalore, Mumbai, Hyderabad, Chennai, Kolkata, etc.
Questions asked by Employer
Q1. Why should we hire you?
Q2. How many months are you available for an internship?
Q3. Tell me about your skills?
Q4. Have you worked elsewhere before this?
The Internshala runs an Internshala Student Partner program. Any student of any course can participate in this program. The duration of the ISP Program is 70 days. You do not need to pay anyone for this program.