Everybody dreams of owning a luxurious car. But what brand comes to your mind when you hear the term 'Luxurious'? Is it Mercedes? Porsche? Roll's Royce? Or is it BMW? BMW is a name everyone is familiar with. It is a German Multinational producer of cars and motorcycles.
In this article, we will provide you with some interesting information on BMW. Read on to know more.
Who is the founder of BMW? (BMW Founder)
The official BMW website says that – "BMW can trace its roots back to Karl Rapp and Gustav Otto." Karl Rapp originally founded the company to produce aircraft engines during World War I, but then remained in business by switching to producing engines for motorcycles and farm equipment.
What is the full form of BMW car?
Surprisingly, most people do not know the full form of BMW, one of the world's biggest luxurious vehicle manufacturers. BMW stands for Bayerische Motoren Werke AG which is in German. When translated into English, it means – Bavarian Motor Works.
History of BMW Cars
Everyone is familiar with the brand name BMW, but most people do not know much about its history, and how it came to its origin. This section of the blog will cover BMW's history.
BMW was formed in 1916 as BayerischeFlugzeugwerke AG. It was founded to produce and supply aircraft engines during World War I. Do you know what was BMW's first product? It was the BMW IIIa, an aircraft engine.
The production of aircraft engines was then terminated in 1918, but BMW remained in business as it started to produce engines for motorcycles and other farm equipment. Other small equipment produced by BMW included railway brakes and small household items.
BMW broke big in 1923 with the production of its first motorcycle called the BMW R 32. During the 1920s, BMW kept expanding as an automobile manufacturer and in 1928, the owners purchased Fahrzeugfabrik Eisenach which was a company that produced and supplied Austin Sevens. After this purchase, BMW kept growing and expanding and became a renowned luxurious and sports car manufacturer in the 1930s.
Everything was going smoothly, but then came along World War II. During the war, BMW resumed its aircraft engine production unit. Prisoners from concentration camps were forced to work in extreme conditions to build the engines. During this time, motorcycles were still being produced in the side but the production of cars was completely terminated. BMW's attempt to milk money out of the war against its director's wishes cost the company a fortune, as most of BMW's factories were bombed and destroyed during the war. When the war was over, BMW was banned from producing motor vehicles and aircraft engines. This is one of the lowest points in BMW's history.
BMW remained in business by producing small items such as bicycles and household items along with other farm equipment. But BMW made a comeback in 1948 when it restarted its motorcycle production unit. This was followed by restarting the car production in 1952. BMW resumed the production of luxury and sports cars in the 1950s but had trouble finding any buyers, and the low sales brought the company at the point of bankruptcy. BMW's rival Daimler-Benz almost bought the company in 1959.
But brothers Herbert and Harald Quandt came as the saviors and invested in the company to save it from going bankrupt.
After this major setback, BMW hit an all-time high and started growing exponentially. In the 1960s, BMW expanded to produce a wide range of luxurious and sports cars.
BMW took over Range Rover and Roll's Royce in the 1990s and emerged as one of the biggest automobile manufacturers of all time.
BMW Headquarters
The BMW Tower or the BMW HQ located in Am Riesenfield district, Munich has been serving as BMW's world headquarters since 1973. The BMW HQ is a high-rise building notable for its unique architecture. It looks as if four cylindrical buildings have been merged to make one building. The building was declared a protected historic building in 1999.
BMW CEO and Owners
Harald Krueger was the CEO of BMW till 2019 after which he was succeeded by Oliver Zipse.
CEO: Oliver Zipse
Owners: Public float (50%); Stefan Quandt (29%), Susanne Klatten (21%)(Source: Wikipedia)
BMW has over 133,000 employees worldwide.
BMW Logo
The BMW logo consists of a circle comprised of two blue and white quadrants placed alternatively. This inner circle is bordered by a ring with BMW written on it. This is the official logo of BMW and is used on cars and motorcycles.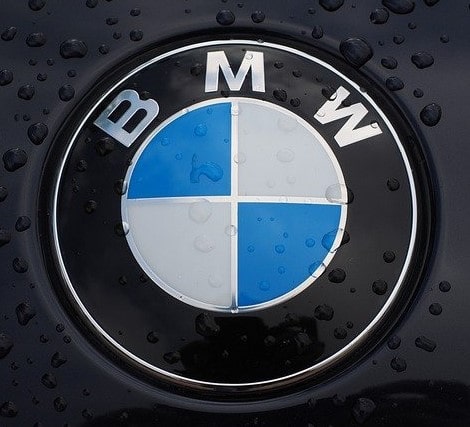 The blue and white colors were derived from the coat of arms of the free state of Bavaria.
BMW Car Price in India
BMW produces luxurious and expensive cars that fall at the higher end of the car-budget spectrum.
In India, BMW the sale of BMW cars starts at Rs. 34.49 lakh for SUVs (model name – BMW X1) and Rs. 42.30 lakh for Sedan (model name – BMW 3 series).
The most expensive BMW car in India falls in the BMW 8 series which starts at Rs 1.32 crore and ends at Rs. 2.18 crore.
List of most famous Indians who own BMW cars
Narendra Modi: Our prime minister, Mr. Narendra Modi might have a thing for luxury cars as he drives around in a BMW 760 Li security outside of the office.
Sachin Tendulkar: One of the most famous Indian cricketers in the world, Mr. Sachin Tendulkar, owns multiple BMW cars. He owns a BMW i8, a 7 series, the M6 Gran Coupe, and an M5 Jahre. Sachin Tendulkar is also the brand ambassador for BMW in India.
Shah Rukh Khan: Bollywood's Badshah or the King Khan of Bollywood loves expensive cars and owns multiple BMW cars. He owns two of the BMW 7 series and his wife Gauri also owns a BMW 6 series.
Mukesh Ambani: India's richest man also loves BMW. He owns numerous vehicles but loves to drive around in his bulletproof BMW 760 Li.
Sonakshi Sinha: One of the most charming actresses of Bollywood, Sonakshi Sinha loves cars and owns a BMW 5 GT.
Kangana Ranaut: KanganaRanaut is one of the most popular Bollywood actresses, and she has amazing taste in cars as she owns a BMW 7 series.